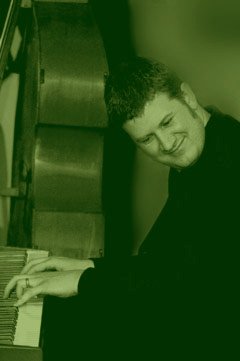 Adam is a professional  musician specialising in Jazz Piano, Musical Direction, Music Production & Education. He plays piano, hammond organ, accordion, euphonium & trombone. On keyboards Adam currently works with bands including  "Cold Flame", "Quintessential Swing", "The Rumour Mill" & "The Modern World".  He is also Musical Director of www.newmillsband.com where he conducts & teaches brass instruments.
Freelance gigs have included work with international singers such as Merill Osmond & Daniel Koek (Les Miserables) & UK singers Loretta Scott, Debbie Wilson, Lyn O'Hara, Andy Ellison, Annie Long & Zoe Kyoti. Theatre and concert work includes "The Rat Pack Vegas Spectacular", "Dominic Halpin & The Honey Bs", "Swingmania Big Band", violinist Craig Owen and "Almost Ella" featuring Danish singer Brigitte Escobar.
Adam also works for charity www.music-in-hospitals.org.uk & organises bands for weddings / corporate entertainment at www.swingbands.co.uk.
He is available for gigs, musical directing, composing/producing/arranging & teaching of piano, keyboard & brass. He has wide experience working in most popular settings and can advise on technique, repertoire and interpretation as required. From small combos to professional theatre shows, Adam is equally at home both improvising and reading music.
Adam's festival performances have so far included Buxton Fringe, Newark Jazz and Nantwich Jazz & Blues; concert highlights: Ronnie Scott's with Millennium Jazz Orchestra, Liverpool Philharmonic Hall with Swingmania & Old Trafford FC for the UEFA cup final VIP entertainment.
Adam lives in the High Peak close to Manchester with his wife & two daughters.
For all enquiries please phone 07957 288 550 or use the Contact page.